Are you so tired of straightening, using chemicals or waving your hair? Are you in search of the latest trending twist hairstyles that will not only preserve your natural hair but also enhance it in any way you wish? If yes to that, Senegalese twist might be the right answer to your questions. They will make you look appealing with cute hair without certainly having to worry about holding sprays, hot irons, blow drying or gels not to mention hair relaxers. Furthermore, they are flexible and can be ideal for office work, going to a date or simply a mall visit and so on. Read on below to know more.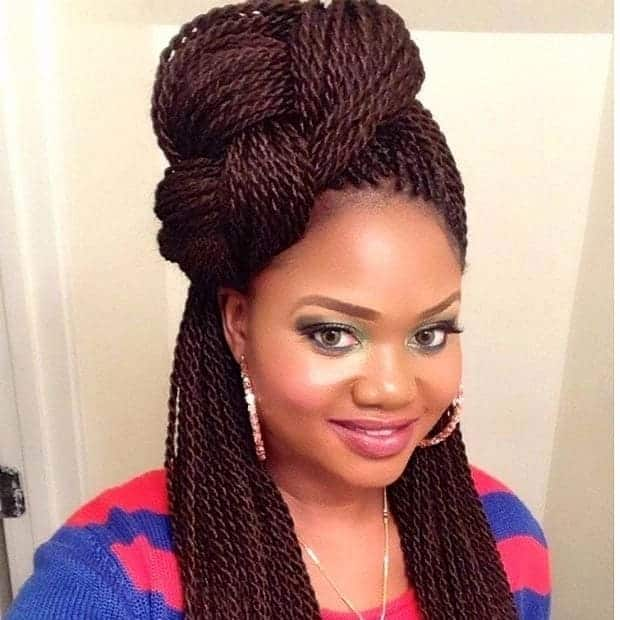 Just as the name itself suggests, these hairstyles are from Senegal, a culture rich country in West Africa. They are universally spread and can be quickly spotted among black or African American women. Additionally known as rope twists, they are usually straight than any other artificial hair and are attached in a different way such that one can quickly locate the point of attachment with original hair. Above all, Senegalese twist hairstyle can endure for months and furthermore outdo other common styles.
Considering we have a good number of African hair braiding Senegalese twist styles, arranging them into different sections may help you identify the appropriate style for that fits you. Here is a list of the latest Senegalese twist hairstyles in different categories.
Senegalese twist styles for work
Currently, many women are spending a big chunk of their day in their offices or their particular place of work. This implies that the choice of hairstyles must are made correctly such that it can show off your personality while expressing your creativity with minimal effort daily. Here are fantastic rope twists that can be really perfect for you under this category.
1. Big Senegalese twists with a top knot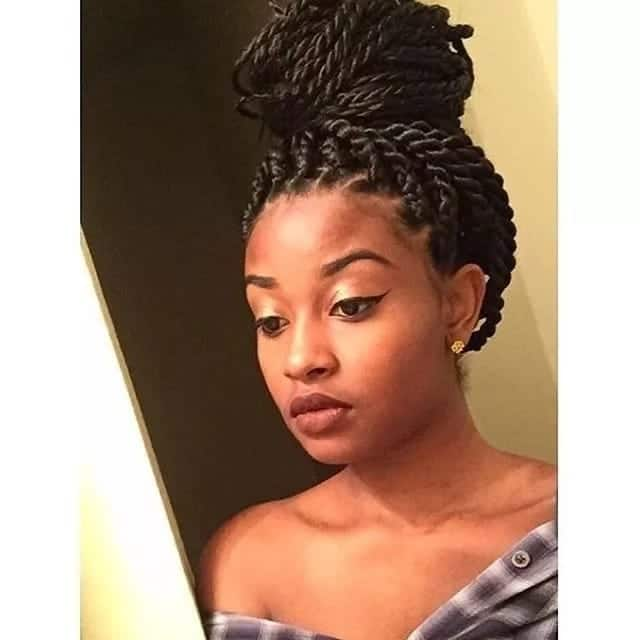 Loved by many people throughout the world, this style is simplistic yet fabulous on your head. The hair is twirled into a bun that is secured with a very firm but elastic band or hairpins. The hairstyle will not only showcase your unlimited creativity but additionally display your personality. It is worth trying out if you usually do office work.
2. Senegalese twist with wavy ends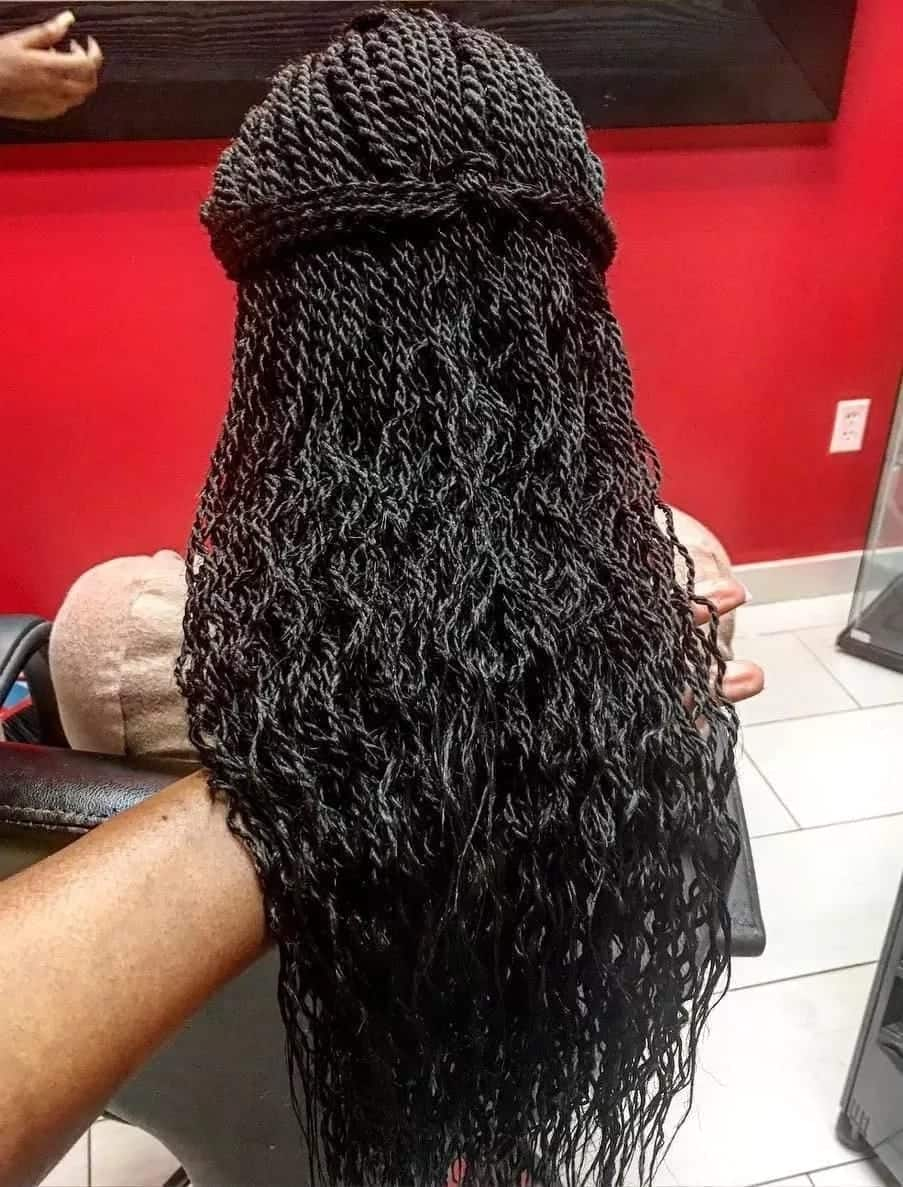 Are you a huge chunky of wavy hair kind of girl? Here is a comprehensive Senegalese twist with wavy edges hairstyle. It is quite simple, and you can pound it when it comes to office work. You can choose to wrap the hair with your hairband or merely leave it unlocked.
3. Senegalese twists with a pop up of blonde or brown colour
This style is one of the trending Senegalese twist crochet braids that are the simplest and cheapest to do on this list. If you don't love colourful twists, then you will absolutely like this. Pop blond coloured twists are installed either at the sides or at the middle as per your choices.
4. Blonde, brown hair
You can really stand out from your bosses and work colleagues with this type of Senegalese twist. It does not require a lot of time and attention to style so it will not spend your valuable work time. You just have to do your hair half up, and halfway below then you are good to go.
5. Jumbo Senegalese twist
With this kind of style, you only need a few manageable jumbo twists that will change your looks. Since they are few, limited money and time will be consumed in styling them. This is advantageous particularly if you spend a big chunk of your time in the workplace.
Medium Senegalese twist hairstyles
If you don't fancy long and wavy hair here is a collection of the top medium Senegalese twist that you will unquestionably love. These styles are generally shoulder-length and are right in the sweet spot – between a long and short Senegalese twist. Take a look at some medium Senegalese twist with Marley hair below.
1. Red twists ponytails with a shaved bottom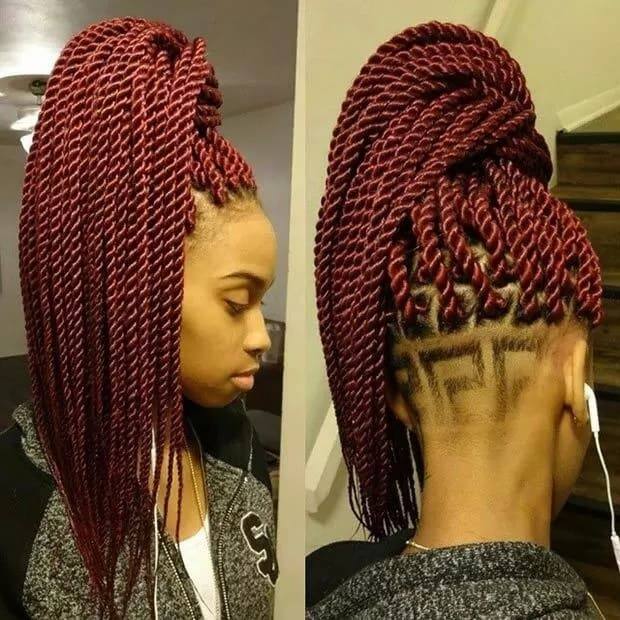 For those individuals into edgy shaved hairstyles, here is your perfect match. It is so fierce, and when you don't want somebody to see your shaved bottom part, you can cover it using your twists. It's worth giving a try.
2. Bob twists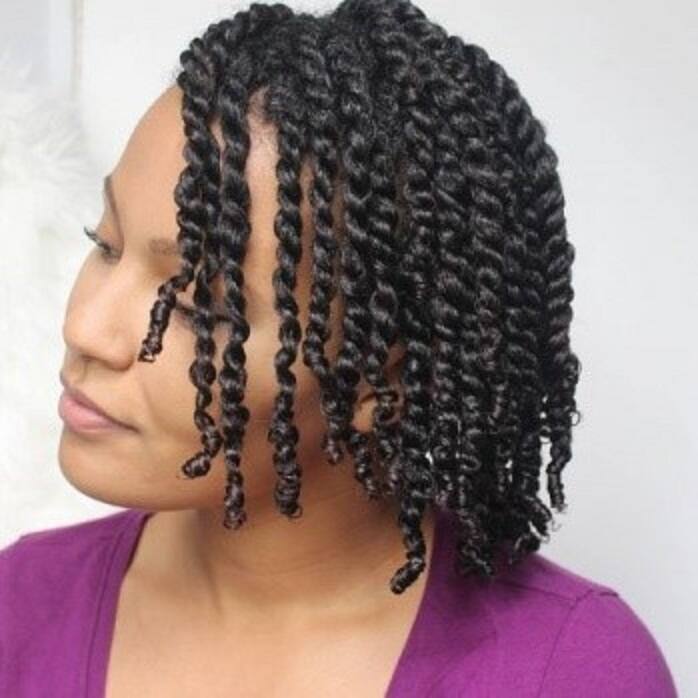 The contemporary twists in this hairstyle do not certainly have to be so long. You can trim them to a shoulder-length size. Be certain to finish them with loose ends to display a feminine vibe. This is especially good for bob varieties of women.
3. Brown hair, mohawk style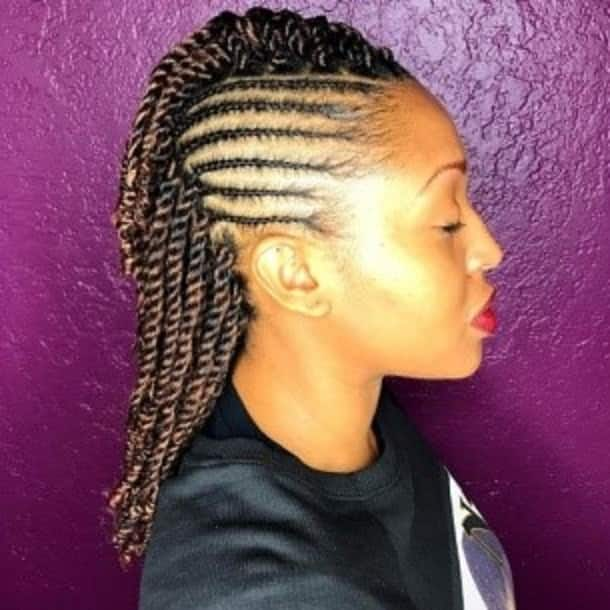 If you fancy fashion, this is apparently the best hairstyle you can do with that your medium rope twists. Both sides of your head are braided in a way that the hair is close to your scalp. In the middle section of your hair the crotchet hair is attached to achieve the Mohawk style. Be sure to have your hair managed by professional to get the appropriate geometry.
Senegalese twist without extensions
Rope twists can likewise be done without necessarily having to use extension hair. This is particularly advantageous when you do not want to consume much time in the salon making your hair. This is because there is no extension of expansion hair and so the process is faster. Here are some of the general popular styles that fall under this classification.
1. Low bun Senegalese twists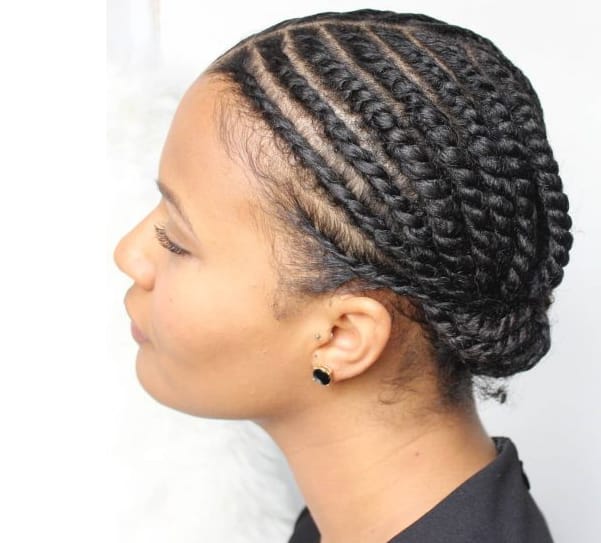 This is one of the elegant yet straightforward rope twists which are inexpensive to make. The lovely twists are delicately wrapped at the back of your head near the neck. Additionally, the hairstyle is perfect especially if you want to show off your fashion to your colleagues.
2. Braided twist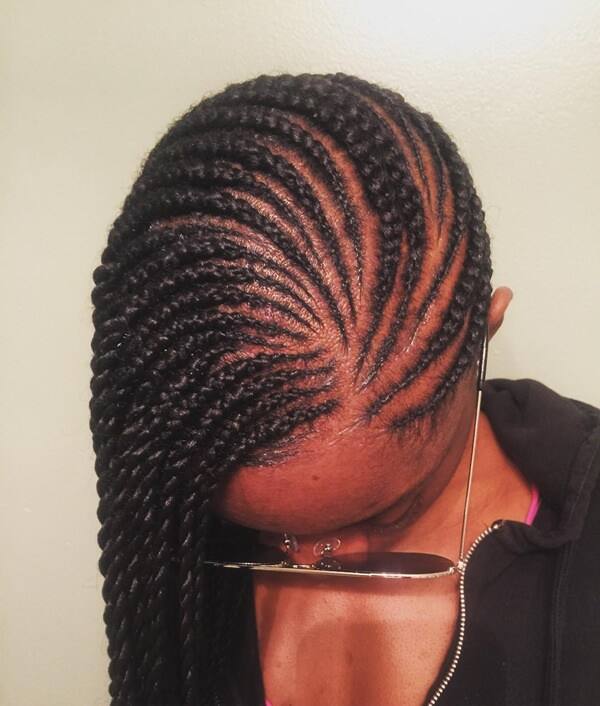 As seen in the picture above, the styling will need less time to plait. Besides, you can easily plait it at home.
Senegalese twist cornrows
Cornrows are an African popular style of grooming hair. The hair is braided adjacent to your scalp in straight lines, curve patterns or even some forms of complex geometry. If you fancy these types of hairstyles, here is a list of the best trending Senegalese twist cornrows where you can pick one from.
1. Twist cornrows half updo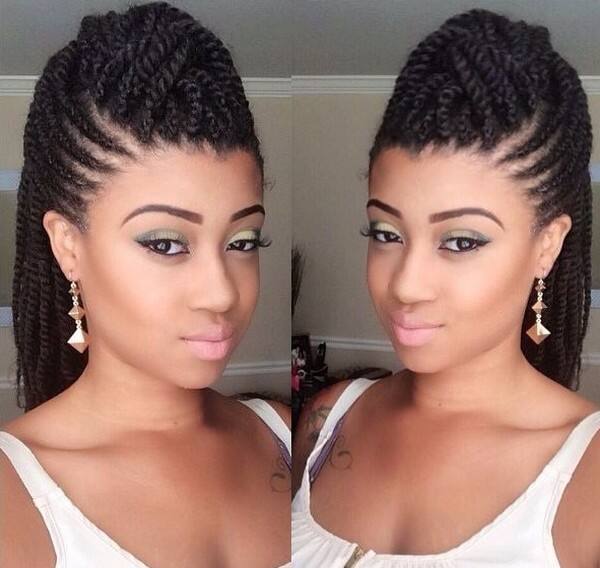 You can as well rock with a Mohawk twist cornrows style. It is comfortable yet gives you an elegant look. Simplistic braiding is done on the top part of your hair to give the Mohawk effect. This can be the ideal choice for you if you like Mohawk style, but you don't want to shave down your head sides.
2. French braid twists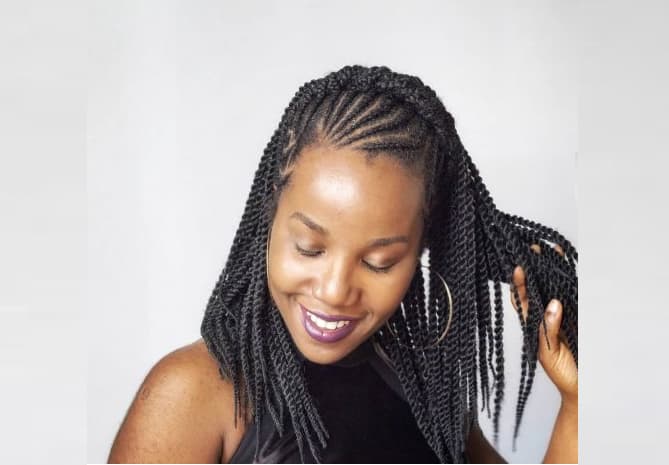 The main advantage of this style is that it takes away all the hair from your face, therefore, allowing hassle-free styling. First, cornrows are designed to fit half the size of your head. They are then assembled into French braids, and the remainder of the hair let to fall down. What a splendid take on twists!
Senegalese twist styles updos
Here your hair is designed in such a way that it is pointing up. The style can be as plain as a ponytail, but it is often complicated depending on your decisions. Here is a selection of the top Senegalese twist styles under this section that you will hopefully admire and like.
1. High bun updo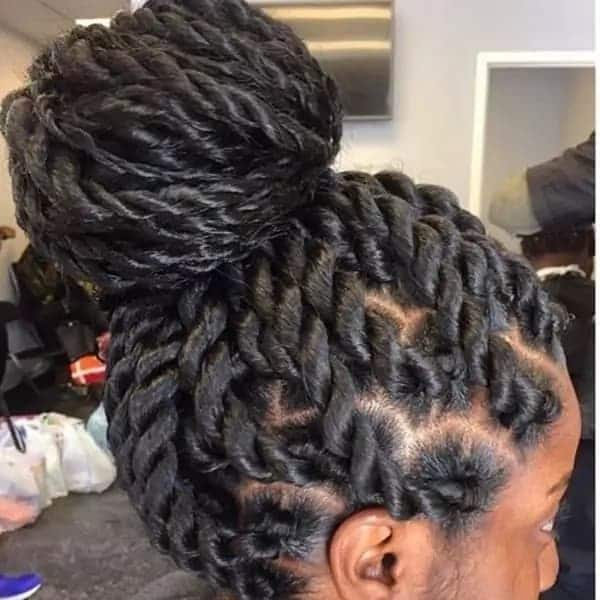 This incredibly awesome rope twist hairstyle comprises the collection of your twists into a ponytail. It is then divided into two whereby one section is twisted and winded around the ponytail. The second lump of hair is wrapped in the opposite direction, and both fastened with bobby pins.
2. Braided updo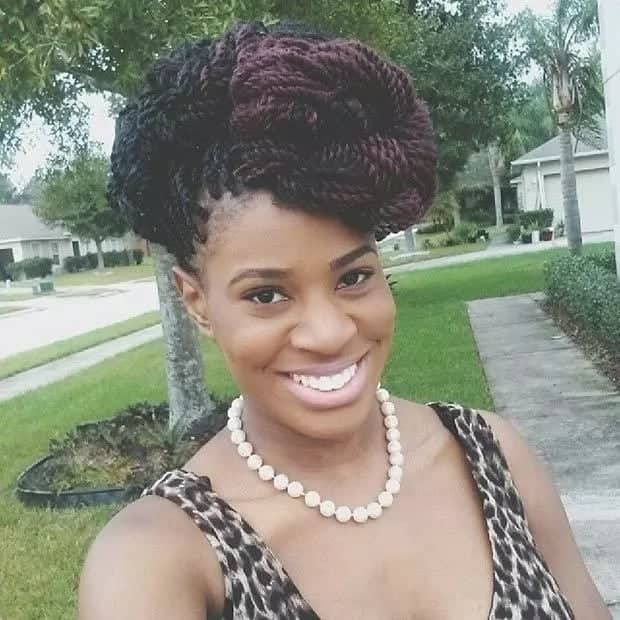 This is one of the best trending Senegalese twist styles that are not only pleasing but also classic for different functions and occasions. This style usually is done by making a side section of the hair that will be used as your bangs. The moment, a high ponytail is made and fastened with a durable elastic hair band. From this, specifically eight braids are made and secured to their ends. Each braid is twisted and fastened to the rest of the hair using a bobby pin. Eventually, from your bangs, a loosened braid will be made, swirled and secured with many pins. As it is evident, this style is not simple and needs much time to be made. Be sure to have a professional and skilled hairdresser to make it since you cannot do it all by yourself.
3. Red twists half updo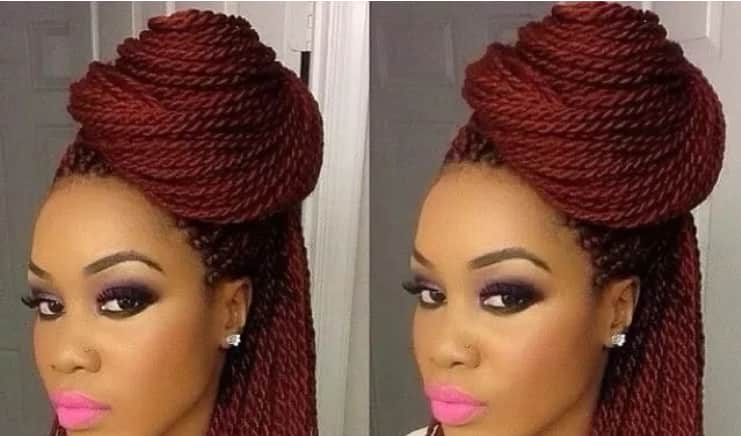 At a glimpse of an eye, the hairstyle really looks hard and expensive to make, right? Apparently not, this rope twist is actually easy; you can still do it in front of a mirror given you have red twists. Just make a half updo ponytail then lightly twist it. Finally, you tie it with some loose twists. It's that simple.
4. Pompadour twist updo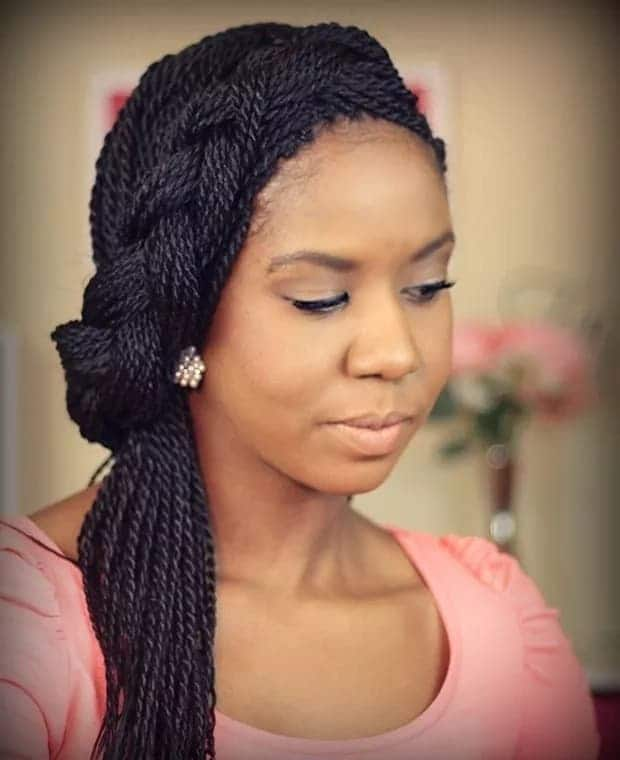 Are you going out to a distinctive occasion or just a business conference? If yes this updo will rock it with its classic and beautiful looks. For the perfect geometry, have it done by a professional.
Now, the lack of creativity in determining or styling your hair is entirely over. You do not have any reason for not styling your hair correctly following your daily routine. Use these Senegalese twists to display a new look with style and versatility every day.
Also read;
Best trending African Hairstyles weaves 2019 (With pictures)
The best trending African baby hairstyles-with pictures