Early in 2018, Opera company introduced OKash a digital lending platform for Kenyans. Hardly months after launching, the app became the most downloaded on Google Play Store in the country. Now, reports indicate that OKash has distributed loans of about 1 million dollars (approximately 100 million Kenyan shillings). If you also want a slice of this cake, follow the OKash loan application process below. You can also take a look at some other loan apps in Kenya Here.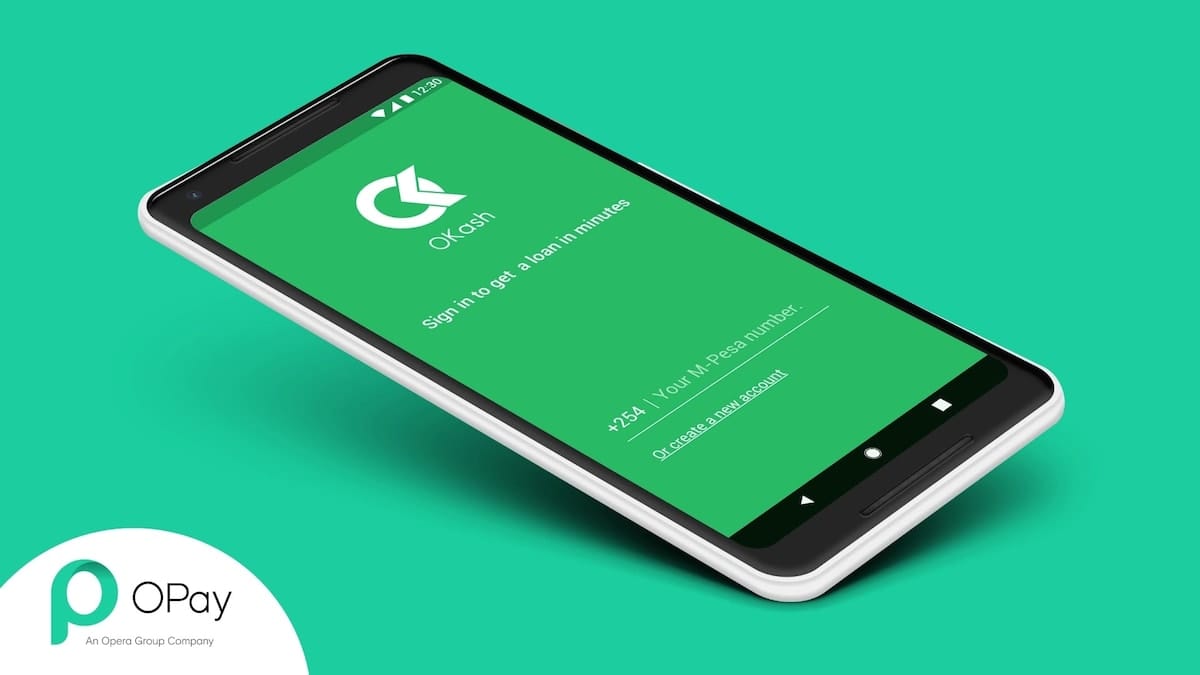 During the initial trial phase, OKash targeted about 100,000 good borrowers in Kenya. The loaning app would then grant loans of between Ksh500 Kenya shillings and Ksh100,000 Kenya shillings. After their official launch in the Kenyan lucrative loan market, the loan limits raised to a minimum of Ks1500 Kenya shillings and a maximum of whole 500,000 Kenyan shillings and later to 2000 Kenya shillings. Besides the loan limits, the other thing that rates OKash apart is that it relies on artificial intelligence. So, the amount you obtain on OKash entirely depends on the data accessible on your borrowing behaviour.
OKash online loan application
The OKash loan app download is accessible on the Google Play Store for Android phones with the operating system Android 4.0.3 and above. OPay Digital Services is further working on making the OKash available to iPhone users via USSD.
Registration
Once you install and ready to run OKash, you will have to set it up with your M-Pesa account. Eventually, you will fill out a set of questions to enable the lender know you better. Some of the information needed includes your money income, employment status, residential details, level of education, marital status, and outstanding loans. You will likewise have to provide details of your referees. The data provided will help OKash determine your intention as a borrower.
OKash Mpesa loan approval
If the data you provide satisfies the lender, you will automatically pass for the first loan of 2000 Kenya shillings. The application and approval process takes only seconds, and the credit is sent to your M-Pesa account. Presently, OKash loans are only available to M-Pesa users. Positively, the developers will partner with other mobile money providers soon.
OKash loan interest rate
You can obtain the OKash microloans at a rate of 1% per day. The present repayment period is up to 14 days. OkashUsers who consistently honour their repayments can apply for a big loan of 500,000 Kenyan shillings at a rate of 5%.
How to grow your OKash loan limit
OKash believes in making sure clients access fund that they can comfortably repay. As such, the loan app primarily relies on customer data to determine the subsequent loans. Apart from your repayment habit, other circumstances may contribute to growth in your loan limit. For instance, if your referee downloads the OKash app and services a loan successfully, you are likely to get a better loan limit.
How to pay OKash loans
Go to the repayment key on the OKash app to process your payment via the M-Pesa STK push services. The amount that you spend will be debited from your M-Pesa account.
Other features of the OKash App
Facial recognition
In an effort to stiffen security on the app and protect your personal information, OKash brought in a facial recognition feature. You will set up this feature by uploading a selfie and photos of the back and front of your ID. Note that you will not acquire a loan via the app unless OKash can authenticate your identity.
Referral code bonus
When you share your OKash unique referral code with friends and family, you will earn a bonus. Consequently, the more people you invite to the app, the more you will receive.
The most current version of the app (1.1.9.14) has a new product that requires you to pay fees upfront.
OKash contacts
You can contact OKash care centre by emailing help@O-Kash.com.
OKash customer reviews
OKash has a total of 4.0 rating out of 5 from over 5,973 customer reviews.
About OPay Digital Services Limited
OPay is the finance-technology division of renowned software group Opera. The company is centring on driving digital innovation by maximising on the high availability of mobile phones. OPay's principal objective is to offer high-end digital merchandises with the excellent user experience.
READ ALSO: TALA loans Kenya – application, app and repayment
At present, there are over twenty mobile-based loans products in the Kenyan market. OKash has differentiated itself by incorporating modern technology. Additionally, the app has one of the highest maximum limits in the market. If the app looks like something you would try out, make use of the comprehensive OKash loan application guide above