Former TV presenter Terryanne Chebet has been counting her blessings one by one ever since she lost her plash presenting job.
The mother of two gave birth to her second child and scored herself a brand new Range Rover Evoque. When it rains it pours!
In an Instagram post seen by exposeke.com on Thursday, April 26, she decided to finally unveil her baby daughter's face in such a sweet and heartwarming fashion.
In such a tear inducing message to her little one, she celebrated her daughter's milestones and highlighted the joy the cute bug brought into her life.
She referred to Talaa, her child, as a treasure and friend who had brought so much love and laughter into her life.
Guys, the little lady is already breaking hearts as she's beyond beautiful.
Her eyes are just like her mum's and she bears a striking resemblance to the media powerhouse.
Oh! And her cheeks, her chubby little rosy cheeks, will leave you fighting an urge to pinch her a couple of times.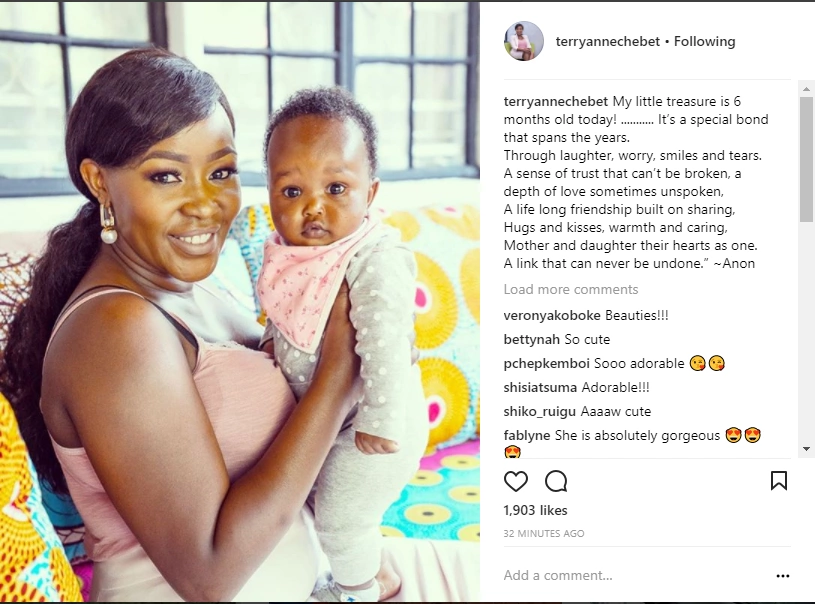 "My little treasure is 6 months old today! It's a special bond that spans the years. Through laughter, worry, smiles and tears. A sense of trust that can't be broken, a depth of love sometimes unspoken, A life long friendship built on sharing, Hugs and kisses, warmth and caring, mother and daughter their hearts as one. A link that can never be undone," she penned down a sweet note.
Terryanne has been rocking a huge rock on her engagement finger and of course social media has tried so hard to unveil the mysterious baby daddy and possible fiance.
The hot mama bounced back almost immediately after delivering her child and her body, umh, I have no words to describe it.
She has been enjoying being a mummy for the second time as she never shies away from flaunting all her mummy-daughter moments with her fans.