Another Chinese architecture firm is on the spot after Chinese workers were caught on camera clobbering a Kenyan man at a construction site.
The clip concluded to had been taken along the Maili Kumi-Solai Road in Nakuru County shows three foreigners engaged in some argument with one of the locals moments before they descended on him with kicks and blows.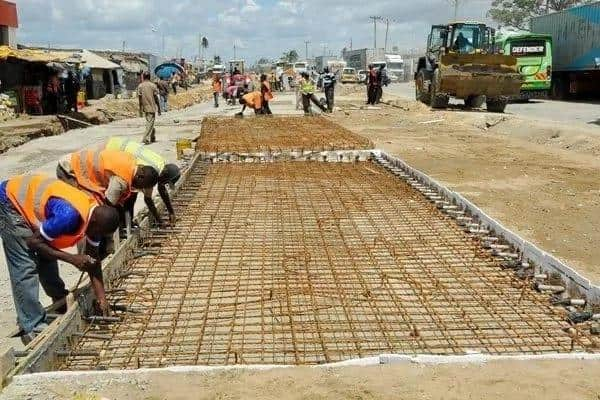 In the video seen by Exposeke.com on Sunday, December 30, the victim can be seen holding what looked like a huge rock in his right hand as he exchanged words with three Chinese men charging towards him.
Chinese constructing the Maili Kumi- Solai road(Nakuru county) almost killed a man for questioning the quality of their work. pic.twitter.com/wSiHFpaDpm

— JAMES MATHERI (@MATHERIJAMES) December 30, 2018
"I cannot do that… I cannot do that…" the Kenyan man can be heard shouting as he dared the Chinese contractors to do their worst.
As the drama unfolded, a few local men watched and shouted from a distance as the man was being attacked.
One of the bystanders could be heard saying they had warned the man against messing up with the Chinese contractors but he did not heed their advice.
Although Exposeke.com could not immediately establish what may have led to the ugly physical confrontation, it was alleged the victim had questioned the quality of work that was being done by the Chinese contractors.
The incident comes about four months after Kenyan workers hired by a Chinese company constructing roads in Maili Kumi, Solai and Subukia, angrily protested against alleged mistreatment and harassment by their Chinese bosses.
The workers accused their foreign bosses of charging exorbitant fines for minor mistakes and wanting them to work under very tight deadlines.
"Working here has become difficult. You are fined when you carry a fellow driver on the vehicle, if the vehicle gets a puncture your salary is deducted, you are given a 50 Kilometer distance to drive in 20 minutes and if you fail your salary is deducted," lamented one of the drivers then.
The local operators also accused the Chinese contractors of a high rate of retrenchment which the claimed made them to work under stress as they were unsure of when they might get retrenched.
"If you come step on the wrong section of the road when we are constructing you are retrenched right away. We are left wondering how these bosses manage us as if they came here to rule us," said another disgruntled worker.